Skid Marks is a drag race track, which has multiple trees, a few billboards, and at the end of the track multiple bricks which your car can crash into.
You can place items on your lane only, and the steerings are: your lane, swerving, and cutting into the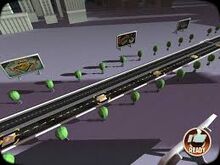 opponents lane. The opponents that are featured in this track consist of:
Mini car, Minivan, Car, Pickup Truck
A fast vehicle with a simple direct impact (perhaps a few turbo pads as well) will be enough to score around 100K.